Alexis and I are currently pet-sitting in the south of Spain. Watching him jump in the communal swimming pool made me want to write a haiku.
As I'm learning and improving my Japanese, I thought it might be fun to try to write it in Japanese.
Here is the haiku:
プールの日 :
アレクシジャンプ
水しぶき
Romaji pronunciation:
Pūru no hi:

Arekushi janpu

Mizu shibuki
Translation in English:
Pool day:

Alexis jumps

Splash
Notes
It's a parody of Bashō's Frog haiku. No comment on the fact that Alexis and I are French, and you know the word some British people use to talk about French people.
古池や
蛙飛びこむ
水の音
(furu ike ya /
kawazu tobikomu /
mizu no oto):
an ancient pond /
a frog jumps in /
the splash of water

Bashō, 1686
I wanted to make it sound and feel different than the original.
It has foreign loan words and katakanas which match our current situation, abroad, in a temporary home, with the setting of a pool rather than a pond.
It has the the traditional 5-7-5 "on"/(kanas/Japanese syllables) pattern.
The "kigo" (seasonal word) is プール, swimming pool, as it makes us think of summer (the original Frog one was late spring).
For the last "splash", I'm using the same word as in the Japanese name of "A Bigger Splash", David Hockney's painting, since it has a similar feel to me (and magically it has 5 kanas!).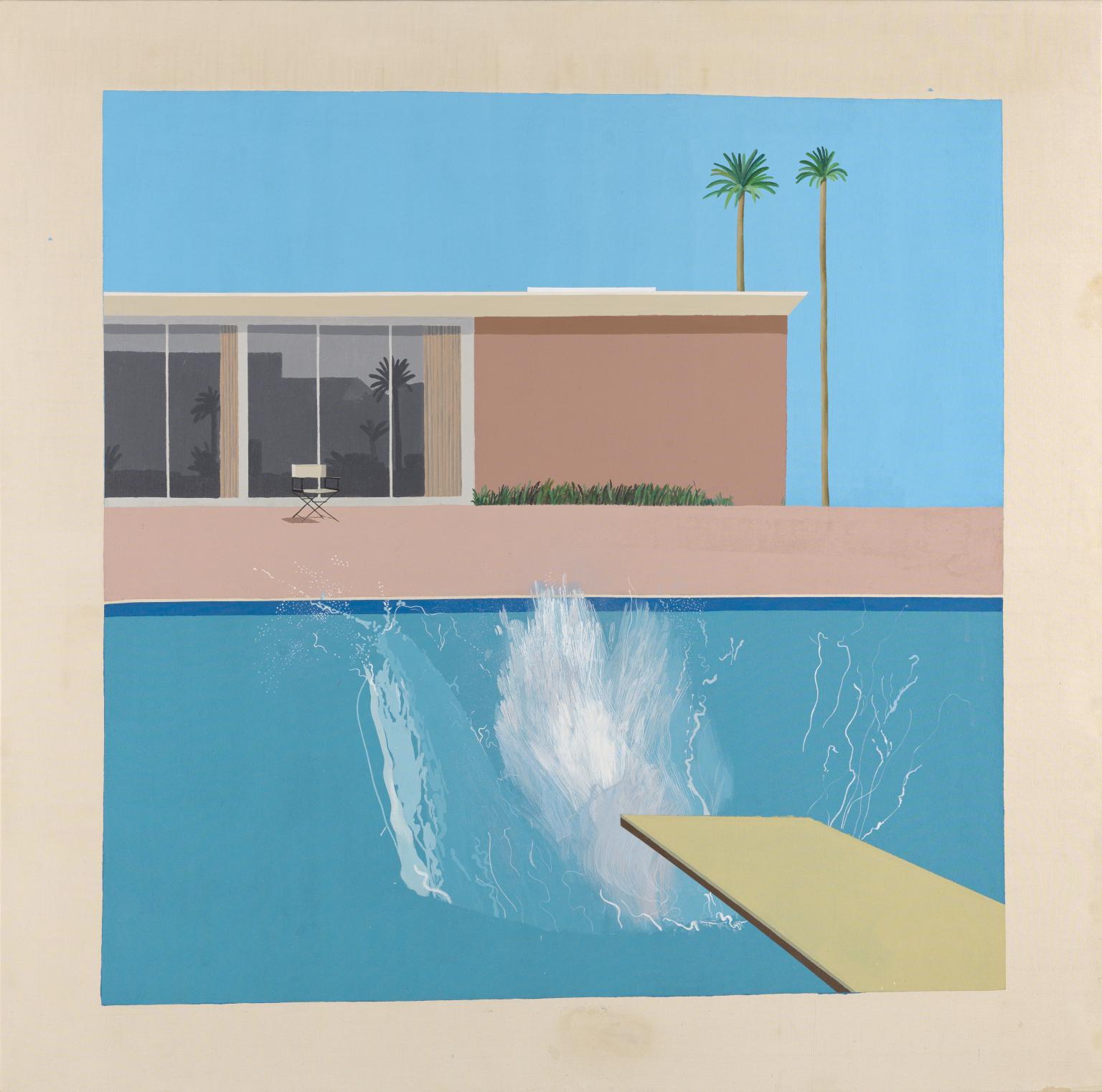 Japanese haikus also usually have a Kireji or "cutting word". In English haikus, usually there aren't any or they are represented by special emphasis words like "How…!" or punctuation marks.
To make the first line fit with the 5 kana rule, to keep the "equivalent" / equation that the original "ya" was implying between the pond and the frog jumping (and that I'm trying to imply with the pool day and Alexis jumping), to be a bit irreverent and in par with the loan words, I'm using the
": " punctuation mark in Japanese rather than "ya".
If you're interested in Haikus (or not), I highly recommend watching Words Bubble Up Like Soda Pop, a slice of life anime movie by Kyōhei Ishiguro from 2021, building a burgeoning romance between a haiku writer and an online influencer.